The Crossing Jokerr Poster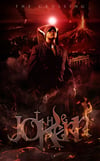 Depicting The Jokerr standing amid scenes from the epic apocalyptic ballad "The Crossing" from The Jokerr's album Sing Aithen, Sing!
NO PAYPAL - NO PROBLEM! At checkout just select "PAY WITH PAYPAL" then on the next page simply select the grey button that says "Pay with Credit or Debit Card" and you can checkout as a guest. No paypal account required!